The Dark Side of the Womb by Kevin G. Bufton
My rating: 4 of 5 stars
Blurb:
Grunts and moans come from the maternity ward. The screams of the mother and the first cry of her child mingle in the air. It is a blessed moment, one that will never be forgotten, but out there, in the big wide world, shadows threaten to snuff out that first spark of life.
And some times, just sometimes, that precious ball of brand-new humanity heralds a darkness all of its own.
Cruentus Libri Press brings you sixteen tales of horror and the macabre that take you from the maternity ward to the crib. From evil infants to terrible toddlers, these stories will send a chill down the spine of any parent and cause any prospective mother or father to have some serious second thoughts.
The Dark Side of the Womb contains stories from the world's finest horror authors, including Ryan Neil Falcone, S.C. Hayden, Ken Goldman, Joseph A. Pinto, Cecilia Dockins, Philip M. Roberts, Christos Callow Jr., Nathan Robinson, Kevin G. Bufton, David Edward Nell, Stephen McQuiggan, Wol-vriey, Michael Wolf, T. Fox Dunham, Lyle Enright and Malon Edwards
Review:
What grows inside of me,
I think I know.
I can't kill it.
The bible says so.
It pains me deep
and won't let me sleep.
It whispers to me.
My soul does weep.
I cannot love it.
How fast it grows.
It's killing me slowly.
It knows I know.
by Nikki
3 1/2 Stars rounded up- 4 Creepy Babies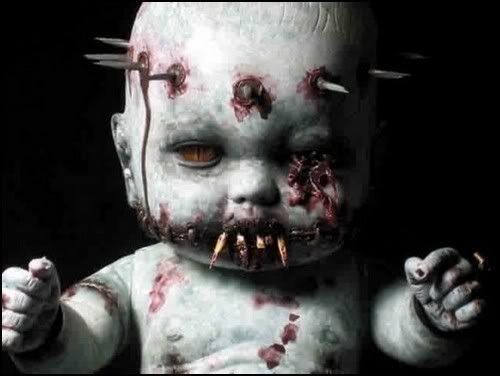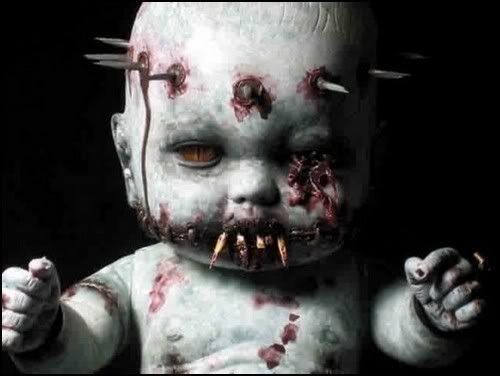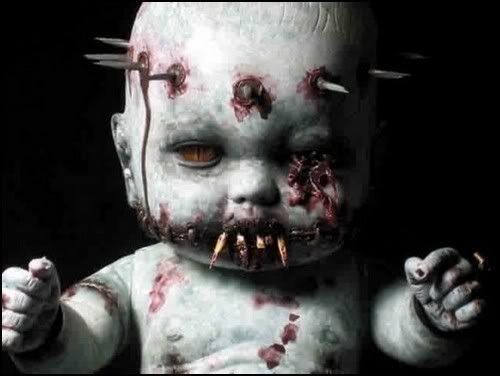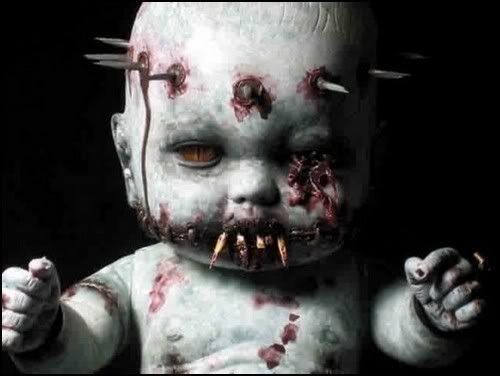 A weirdly good read! Recommended~
ROLL CALL:
4 stars-Unsafe by Ryan Falcone
5 stars- She's My Everything by SC Hayden- Crazy originality. The story was done and I was wondering what just happened.
3 stars- Slouching Towards Bethlehem by Ken Goldman-A baby king
4 star-Sweet Nectar of Life by Joseph Pinto- Daddy's little girl
5 stars- Womb by Cecilia Dockins-An evil reborn
4 stars-Jay's New Home. A boy reborn
4 stars-The Body Inside My Body by Christos Callow Jr.- When a baby knows it's unwanted.
2 stars- Hatch by Nathan Robinson- Just okay
4-stars- Mother's Milk by Kevin G Bufton
2-stars- New Beginnings by David Edward Nell
5-stars – Baby Blue by Stephen McQuiggan – I wish there was more!
1 1/2-stars- Maria's Baby by Wol-vriey-This is more of a weird bizarro read. All about a pork baby that wants a Mommy and Daddy
3-stars- Slideshow by Michael Wolf
3 stars- The Dark Side of the Moon by T. Fox Dunham
3 stars- Elliot by Lyle Enright
3-stars The Drawer by Malon Edwards
*click cover to purchase*
More by Kevin G. Bufton
Related Posts